Tablet Repair Shop in Houston, TX
Quality Tablet Repair Services in Houston, TX
Fast Fix has always prioritized quality service for its customers to ensure the best experience with your gadgets. We realize how important digital devices have become in today's progressive world. We have a team of highly skilled technicians who are experienced with devices and one of the best in the business. We are known for quick service without compromising the quality. If your tablet is not functioning properly and is damaged, bring it to our cell phone repair house, and we will perform a quick diagnosis. Fast Fix offers a range of tablet repair services such as screen repair, water damage, battery replacement, camera replacement, etc. Our efficiency has made us one of the most trusted and reliable tablet repair services in the city. Contact us today if you face issues with your gadget, and we will guide you through it.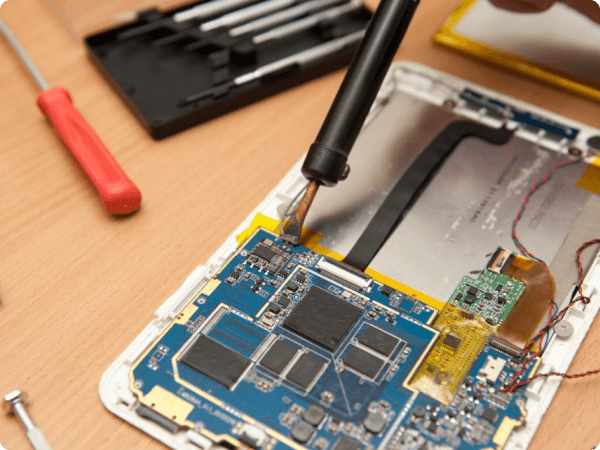 Shop Parts & Accessories
We have all OEM parts for your devices and stock up with latest accessories the keep your device safe and style. Visit our store to get it all.
Offering Tablet Screen Repair & Much More in Houston TX
At Fast Fix, we realize how quickly technology evolves as new gadgets are introduced. Our technicians train to keep up with all the latest models and tablet brands. Our tablet screen repair service is renowned for being quick, and our customers have always come back to us whenever they face an issue with their gadget. We understand how important your tablet is. That is why most of our repairs are done the same day you bring your device. However, some issues may be more complex and require more time. Rest assured, our focus is always on the quality of repairs we provide. It doesn't matter what kind of an issue your tablet faces; we have successfully repaired countless gadgets in the past, whether it was a tablet or smartphone repair.
All Accessories
20% OFF Today
Fast and Reliable Tablet Repair Services in Houston, TX
Digital devices often malfunction or break by accident, but that doesn't mean you should instantly start looking for a new one. With our tablet repair services, we can fix your device and make it work to its best. 
Tablet Screen Repair 
Did you shatter the screen of your device or crack it? Don't worry, as we are experts at providing tablet screen repair services. We use high-quality parts for replacement, so your gadget will function perfectly for a long period of time and give you the best experience. Most of our screen repairs are done on the same day, so you don't have to wait around too long to get a simple fix. With our skilled technicians, no issue is too big to solve. Trust us with your tablet, and we will not let you down. 
Water Damage
Water-damaged devices are one of the most common problems we've fixed at our tablet repair store. Liquid can cause quite serious problems for your gadget. The sooner you bring your tablet to us, the better. Our experienced technicians have fixed countless devices with water damage and restored their data. If you dropped your tablet in the pool or left it out in the rain, we can help you fix it
Battery Replacement 
Your tablet running out of battery quickly indicates that you might need a battery replacement. Bring your device to our tablet repair store, and we will provide a quick solution. Our technicians are experienced with every tablet problem, and we are quick to fix it. With our tablet repair service, you put your trust and device in one of the most reliable services in the city.